Online-Angebot Juni 2021 Not Your English Lesson – the online interactive impro show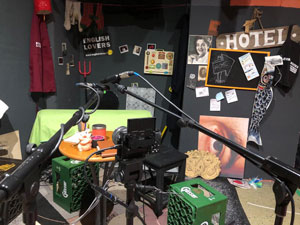 © Nina Ebner
We English Lovers miss you, our live and lively audience! So, after successfully streaming two improvised productions live from Theater Drachengasse (and learning a lot in the process!), we're ready to offer you live interactive fun in English streamed right into your school or even to students in a distance-learning situation. Their inspirations can be shared directly with the players, helping them to create hilarious scenes and songs.
We hope to invite you all back to the theatre very soon, but in the meantime:
Don't Dream it, Stream it!
VORMITTAGSLIVE-STREAM aus dem Theater Drachengasse ab 40 Personen
Termine:
22. Juni um 13 Uhr, noch 100 Plätze
23. Juni, Rahmenzeiten: 11-14 Uhr
24. Juni, Rahmenzeiten: 11-14 Uhr
25. Juni um 11 Uhr, 40 Plätze frei
25. Juni um 12 Uhr, 50 Plätze frei
Kartenpreis: € 10, Lehrpersonen sind frei
Infos und Anmeldung:
Kathrin Kukelka-Lebisch, 01/512 13 54
kathrin.kukelka-lebisch@drachengasse.at
---