VORMITTAGSVORSTELLUNGEN Juni 21 #interactive #fun #EnglishLovers READY, STEADY, GO!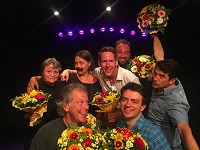 Foto: The English Lovers
Your pupils may think they're familiar with situations like meeting in a coffee shop or crossing the road. After this hour of interactive fun in English, they're likely to see everything in a different light! The English Lovers use input from their audience in improvised scenes, games and even songs, often with hilarious results. Watch as they turn life upside down with their unique and quirky way of dealing with the everyday, or transport everyone to outer space or an undersea world.
With: Anne Weiner, Bronwynn Mertz-Penzinger, Dennis Kozeluh, Jacob Banigan, Jim Libby, Kathy Tanner, Michael Smulik, Sophie Kozeluh
Improvised Music: Klaus Erharter, Belush Korenyi
Improvised Lighting: Michaela Pink, Sandra Kleindl, Johannes Kirchner
Optionale TERMINE:
7. - 18. Juni 2021, Mo-Fr, Rahmenzeiten: 11-14 Uhr
Infos und Anmeldung:
Kathrin Kukelka-Lebisch, 01/512 13 54
kathrin.kukelka-lebisch@drachengasse.at
---