März/April 2022 Vormittagsvorstellungen English Lovers SPEAK UP!
erstellt am Dienstag, 10.08.2021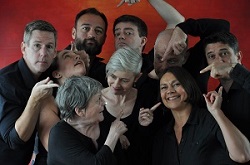 © Ine & Thomas Photographs
Vormittagsvorstellungen, Rahmenzeiten 11-14 Uhr, gespielt wird ab 40 Personen
English Lovers
Speak Up!
Optionale Termine:
31. März – 9. April 2022, Di-Fr
Join the English Lovers for an hour of interactive, improvised fun. The results will be as unexpected for the Lovers as for your students, as the improvisers are forced into situations, roles and emotional states at the whim of their audience! Laughter makes everything o.k. – even speaking a foreign language that can be daunting and a bit scary.
Abendvorstellungen
English Lovers
Down the Rabbit Hole
29. März – 9. April 2022, Di-Sa um 20 Uhr
https://www.drachengasse.at/spielplan_detail.asp?ID=984
Information und Anmmeldung: kathrin.kukelka-lebisch@drachengasse.at
---
www.drachengasse.at

Theater Drachengasse
Fleischmarkt 22
1010 Wien

Eingang Drachengasse 2

Kartenreservierung telefonisch Di-Sa 15.30-19 Uhr oder rund um die Uhr über die Homepage

18.01.2022

Telefon 512 13 54
Telefax 512 06 04
theater@drachengasse.at